FM & Hospitality Window Cleaning Kit
Our FM & Hospitality Window Cleaning Kit includes a fully portable pure water cleaning system, the PortaPower. Additionally we kit you out with a 63ft Raptor Carbon Fibre Water Fed Pole, fully ready to use and connect to the included steel hose reel. Full details below.
The PortaPower allows you to produce and deliver large amounts of de-ionised water on-site. Simply connect to the mains water and electricity supply on-site and you are ready to work instantly (battery version needs access to mains water only). It can be used by a solo operator, or a team of two working on high reach jobs up to 63 feet.
Enquire Today about our Water Fed Systems
or CLICK HERE to fill out the form >
Description
PortaPower 12V Battery – Pure Water Cleaning Trolley
Safety First – PortaPower supports the long reach cleaning option (60 ft working height) so no need to hire inexpensive access platforms and scaffolding. Connect your water fed poles directly to the PortaPower and you are ready to go.
Faster – The Portapower is compact and can be moved around quickly, in and out of vehicles, up and down steps and across any terrain. Saves you time as there is no need to pre-fill a tank and you can stay on-site until the job is done (PortaPower generates and delivers 200 litres of cleaning power/ hour).
Going Green – no detergents are used in the purification process. Pure Water Cleaning is all you need for a top-class professional finish
Saving you Money – PortaPower is a stand-alone system which is compact and can be transported in an existing small van, or even an estate vehicle. No need to purchase a van or pay installation costs. It's the most cost-effective model on the market today!
Low Cost Pure Water Cleaning

Enables 2 Operator High level Cleaning up to 60 ft

Delivers 200litres/ hour for rapid production (or filling of tanks)

Only wastes 30-40% of input water, the rest is product

No need to purchase a van – you are ready to go!

No Chemicals or Detergents

Works under 12V Battery Operated

Raptor Carbon-Fibre  – 63ft Water Fed Pole
 The NEW Stronger and Ultra-lightweight Carbon-Fibre Window Cleaning Pole
The team at Brodex have been manufacturing water fed poles for many years to continuously keep innovating for further quality improvements on our poles. This is the best Carbon Fibre pole we have ever manufactured. The pole is lighter, stronger and includes our newly designed robust lateral "anti-pinch" clamps.
All Brodex Poles are 100% Complete and Ready-to-Use
Complete with 10″ Brodex Lightweight Brush Head as standard and an adjustable commercial crank.
1 Year Manufacturer Warranty – If your pole has any manufacturer defects, we will fully refurbish upon return and deliver it back to you in a matter of days. 
Steel Hose Reel Complete with Hose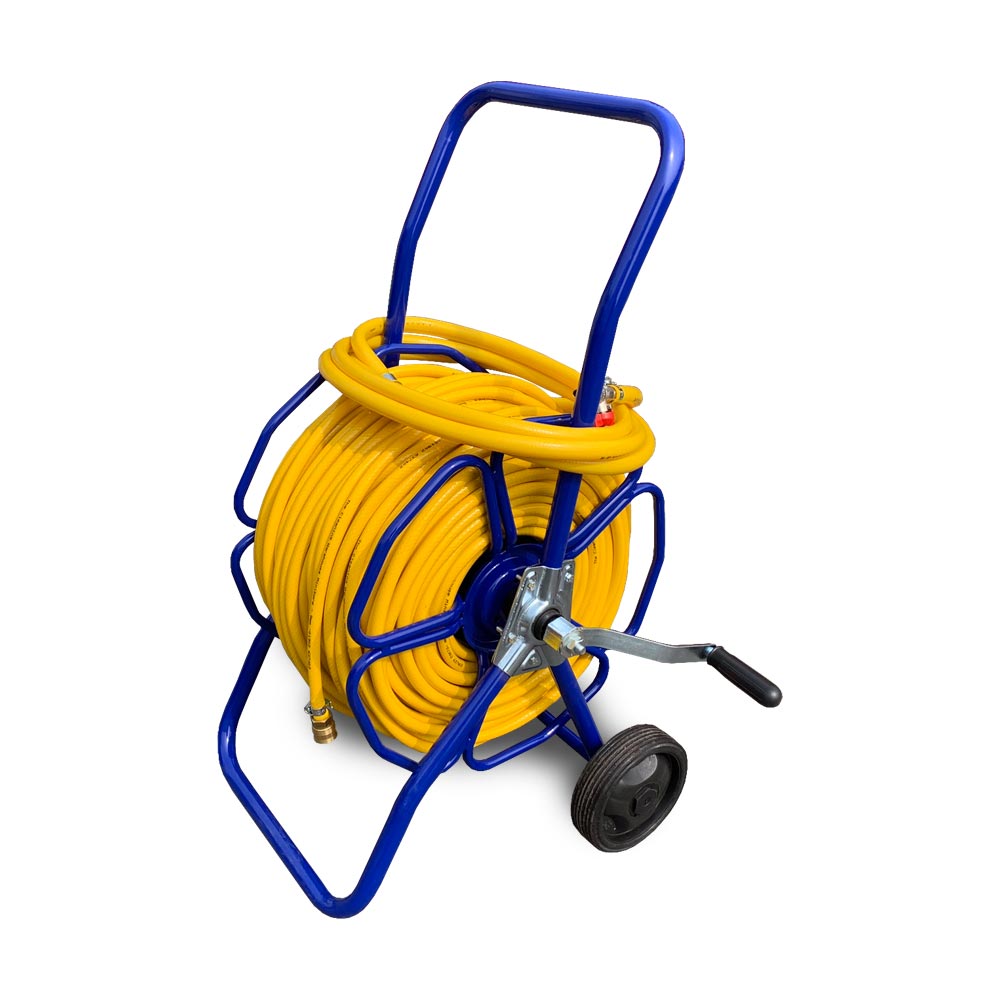 Industrial strength professional hose reel, made of powder coated pressed and welded steel for strength and durability. All fittings are high quality brass. Suitable for industrial and heavy commercial applications.
Also we include a TDS Meter, so you can test the purity of your water ensuring you clean with a streak-less finish.
Enquire now