Sale!
niagara™ Softwash System
£4,850.00 – £5,850.00 excl. VAT
SPECIAL OFFER

– THIS DECEMBER ONLY
£1000

OFF
The new Brodex Niagara is our brand new Softwash Cleaning System, for exterior cleaning.
Key Features
3 x 25 Litre compartments for solution

Digital Variable Control Pumps

Massive 27 Litre Per Minute Flow

Can be upgraded to 2 Operators (1 Clean, 1 Rinse)

Standalone 12 Volt Battery System (Eliminates Noisy Engines & No Generator Required)

Mounted 13mm Hose Reel

The ONLY Crash Tested Softwash System
Images display a 1 Man System. (2 Dosatrons on the 2 Man System)
Full range of RAPTOR Carbon Fibre poles from 18ft to 73ft available on request.
Description
The Softwash cleaning method had proved to yield the absolute best results for all exterior surfaces. Surfaces over-time become more riddled with biofilms* and using a biocide kills these micro-organisms rather than simply blasting them away with a pressure washer.
HOWEVER… The Brodex niagara also allows a pressure washing feature, meaning the combined methods provide the ultimate cleanse that lasts an extended period before needing to clean again.
Like our e-compact series, the niagara is a van mounted system that fits all medium or above sized vans.
The D3 dual purpose Dosatron® is the driving force behind the niagara.
The D3 dual purpose Dosatron automatically adds 5-25% of your specified cleaning agent to the water coming from your tank when activated.
We include a LANCE sprayer with the niagara, but you can also use a RAPTOR Carbon Fibre Telescopic pole for the extra cleaning reach.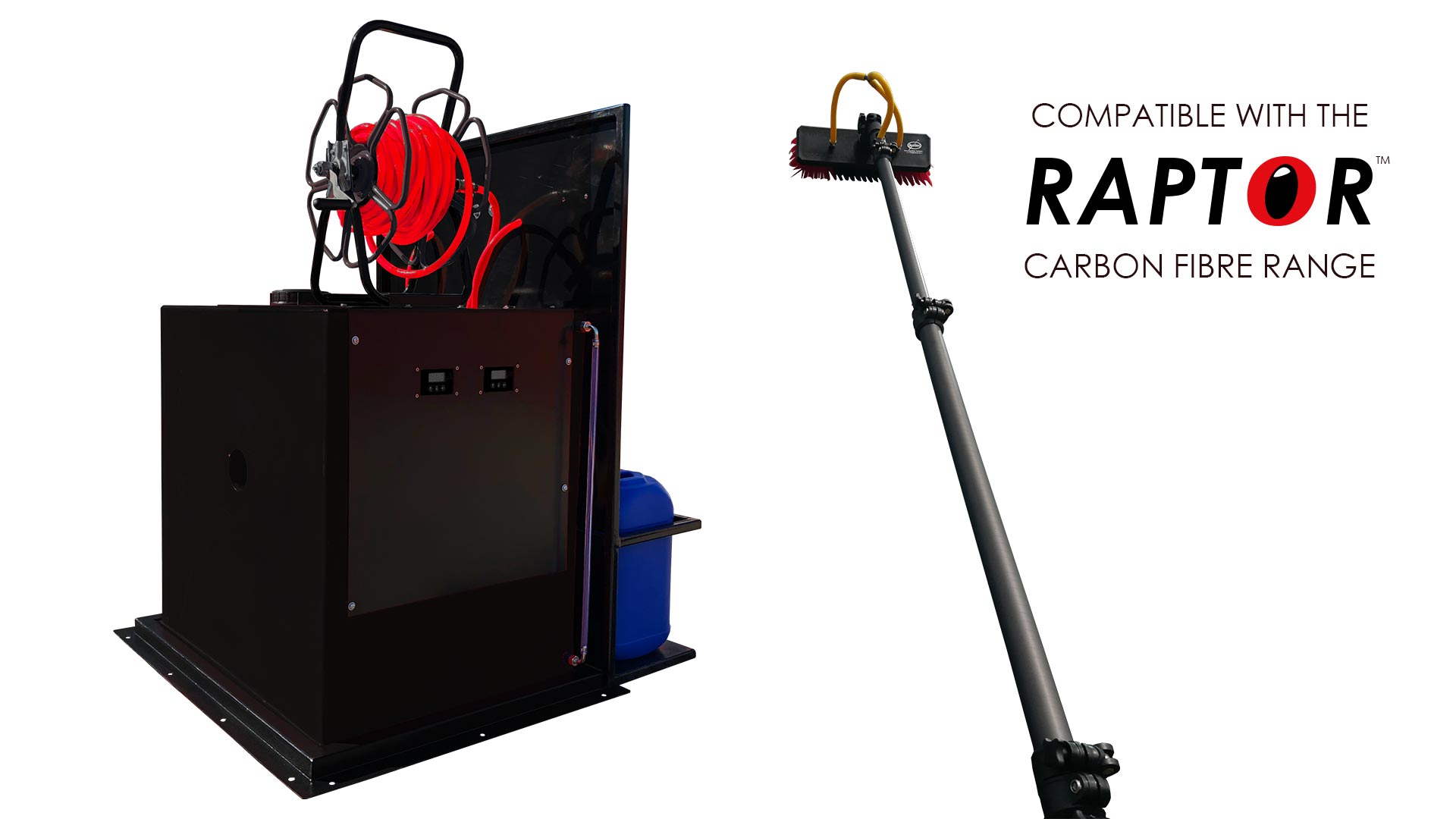 *(Micro-organisms e.g. Algae, Lichen and various other types of Mould)
Specifications
Capacity: 350 Litres
Digital pump controllers: 2 x 32 amp
D3 Series dual usage Dosatron: 53 lpm
Fill-time: 25 mins
Empty Weight: 69 kg
Full Weight: 419 kg
Footprint (including bracket): 1148 x 950 x 1605 cm
Maximum Operators: 2 plus rinse off
Pumps: 26.5 lpm
Battery Pack: 90 amps with split charge relay
Auto-shut off when full
Jetwash outlet (jetwash not supplied)
Secured with crash tested safety ring
Stainless steel fittings throughout
Softwash Lance Supplied
Compatible with RAPT

O

R™ Carbon Fibre Poles
Mounted 13mm Hose Reels
Bolt on panels for easy access/maintenance

Have you read our Blog on the niagara? READ HERE
Special Offer applies for December 2018 only. If you want to make a purchase on the phone, please call in before the 21st of December as we close for Christmas until 2019.
You may also like…
£

220.00 –

£

1,350.00 excl. VAT